Upcoming Events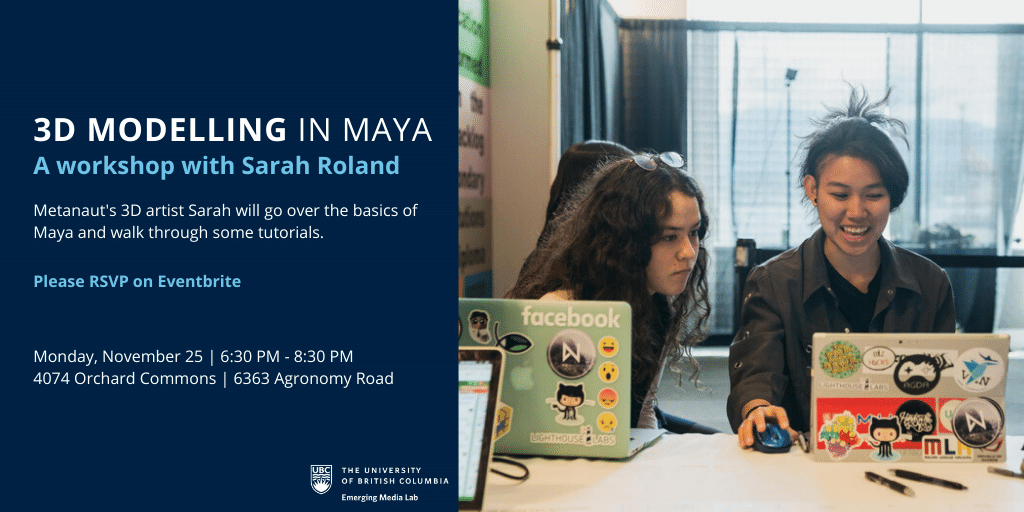 Metanaut's 3D artist, Sarah Roland, will go over the basics of Maya and walk through some tutorials. 
Learn More

Come join us at Emerging Media Lab at Irving K. Barber Room 183 for a quick demo session of the emerging technologies at UBC. This event will be held Monday, Wednesday and Friday from 1:00 PM - 2:00 PM every week and is open to anyone from the UBC community, including staff, students and faculty.
Learn More
Past Events
Emerging Media Lab Lecture Series "Motion Sickness in Virtual Reality" Ever wonder why you get a little sick when you put on a VR headset? Turns out there's a science behind it and it's not quite like regular motion sickness. KITE scientist and psychology professor from Ryerson University Dr. Behrang Keshavarz will explain the phenomenon and how you […]
Date: Wednesday, August 28, 2019| 2:00PM – 5:00PM Location: Irving K. Barber Learning Center, Vancouver Campus |1961 East Mall The Emerging Media Lab (EML) is proud to present the annual Summer Showcase on Wednesday, August 28, 2019 from 2:00 p.m. – 5:00 p.m. UBC students, staff and faculty will have the opportunity to try […]
Lecturer: Dr. Patrick Pennefather | Department of Theatre and Film; Centre for Digital Media Date: Thursday, July 25, 2019| 1:00PM – 3:00PM Location: UBC Studios | 0110-2329 West Mall, Vancouver, BC V6T 1Z4 The popularity of emerging technologies and new ways to experience virtual worlds continues to grow. This talk will center on […]
Take a break from your IKBLC study session and come to our Library space for a quick break in virtual reality! To help you de-stress before or after your exams, we'll be hosting a VR Game Day on Monday, April 15th from 12:00pm – 4:00pm. There will be four different stations that you can try out! Bring yourself or a couple of friends too!