Language Chatsim
Allows users to pick between English or German to practice speaking with an avatar in virtual reality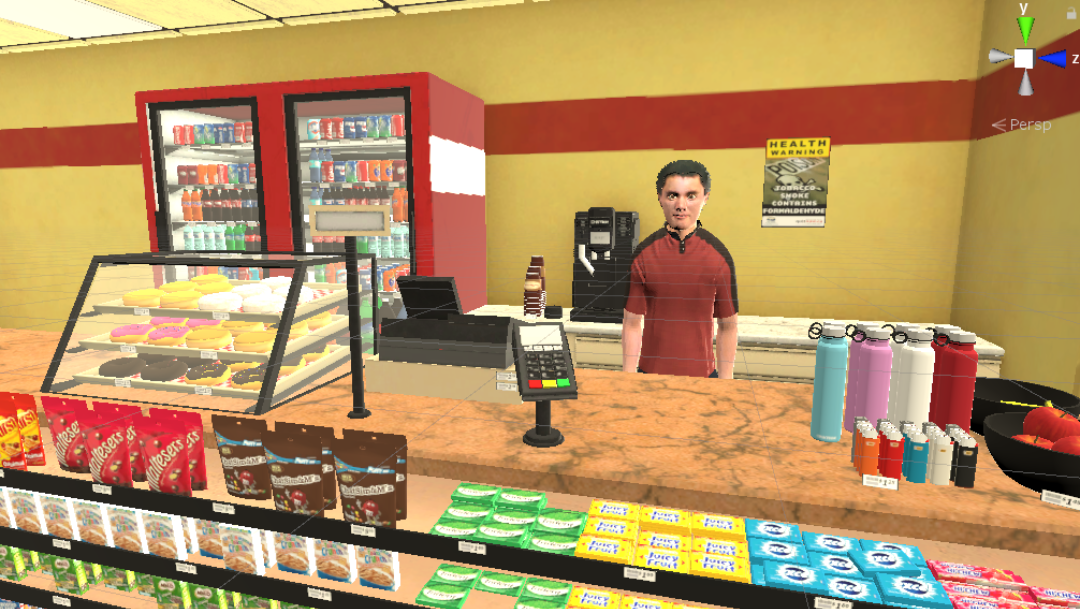 About the Project
Language Chatsim is an ongoing collaboration between EML, UBC IT, a faculty member from the Department of Central, Eastern and Northern European Studies, and a faculty member from the English Language Institute, focusing on developing a language learning application using virtual reality. The current version of Language Chatsim allows users to pick between English or German to practice speaking with an avatar in virtual reality. This avatar is connected to a chatbot built using Google's DialogFlow to allow for a natural response to the users' input. This process allows students to naturally practice without going out and finding a practice partner.
The overall project goal is to harness the immersive benefits of VR to enhance the quality and rate of language learning. In the longer term, this would involve full modules covering the core skills of reading, writing, speaking and listening across different levels of linguistic proficiency in a range of different languages. The immediate goal of this project is to demonstrate VR's language education potential by teaching 10 lexical items in German and English in the functional context of requests.
Indeed, when it comes to learning foreign languages, immersion has been heralded as providing "educational benefit" par excellence, and for centuries. In virtual reality technology – and specifically through the targeted application of VRML to create target language cultural environments – lies the potential to harness the educational benefit of cultural immersion without the foreign language learner needing to leave their own home (or, indeed, indeed, from anywhere on earth).
Objective
There are two closely related problems we would be trying to solve through this project: how to provide our students with more effective teaching and learning, and how to apply VR technologies to that end. Students learning an additional language in their first language environment whether in UBC or foreign university contexts, do not have access to the benefits of a target language immersion environment.
The Team
Faculty
Jason Lieblang, PhD, Senior Instructor of German
Andrew Scales, Director of English Language Institute
Staff
Brian Wilson, Curriculum Manager (Vantage College)
Geoff Luk, UBC IT
Rosario Aguila, UBC IT
John Bratlien, UBC IT
Armenak Grigoryan, UBC IT
Alma Ortiz, UBC IT
Students
William Beltran, Developer, (February 2019 – May 2019)
Matthew Davison, Developer, Current Project Lead (May 2019 – August 2019)
Morgan Mo, Developer, Current Tech Lead (May 2019 – August 2019)
Gary Zhang, Developer (May 2019 – August 2019)
John Song, Developer (May 2019 – August 2019)
Alice Tang, Designer (May 2019 – August 2019)
Hugo Kwan, Designer (May 2019 – August 2019)
Faye Yu, Designer (May 2019 – August 2019)
Matthew Davison, Developer, Project Lead (May 2019 – December 2019)
Julia Chu, Technical Lead (Jan 2020 – April 2020)
Sandy Co, Design Lead (Jan 2020 – April 2020)
W Chung, Designer (Jan 2020 – April 2020)
Dante Cerron, Developer (Jan 2020 – April 2020)
Student Volunteers
Jazica Chan, Designer (September 2019 – April 2020)
Xuning Wang, Designer (January 2020 – April 2020)
Sandy Co, Designer (September 2019 – December 2019)
Felicia Chan, Designer (Jan 2020 – April 2020)
Julia Chu, Developer (September 2019 – December 2019)
Kyle Mas, Developer (Jan 2020 – April 2020)
Luke Nguyen, Developer (September 2019 – December 2019)
Cindy Shi, Developer (September 2019 – December 2019)
Veronica Chen, Developer (Jan 2020 – April 2020)
Nikko Angelo Dumrique, Developer (Jan 2020 – April 2020)
Clare Chen, Developer (Jan 2020 – April 2020)