Main Mall Hustle
A Google Cardboard VR viewer experience that drops you into the middle of life on campus. Experience UBC even before coming to Vancouver!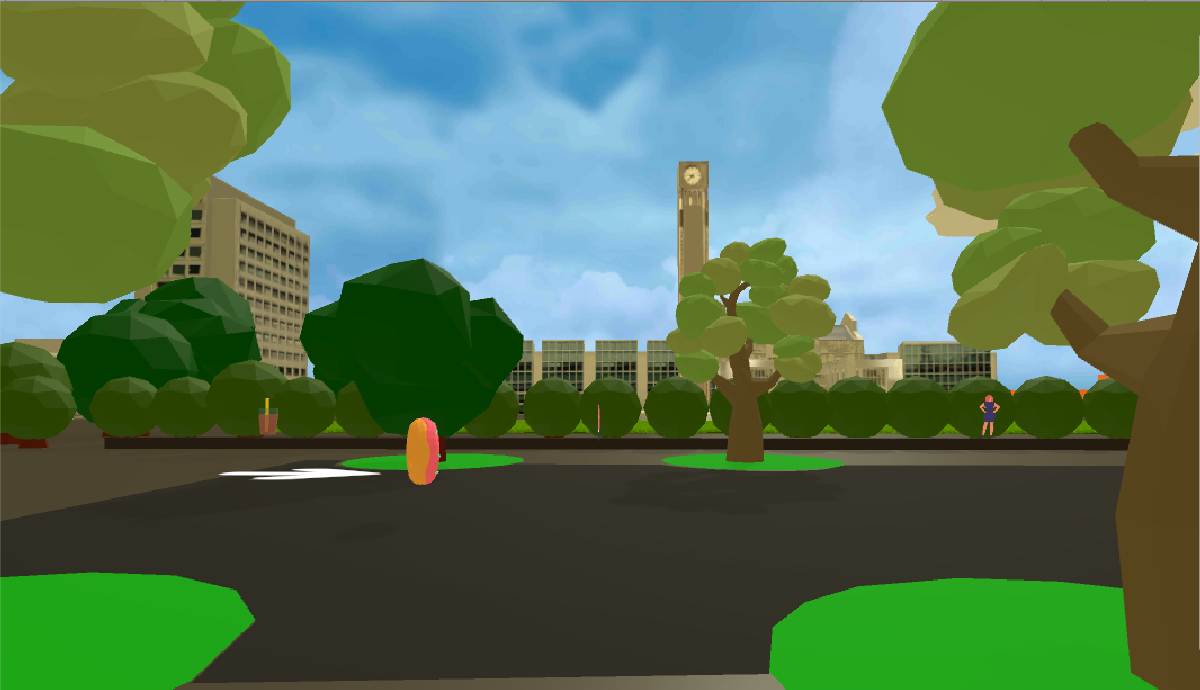 About the Project
Picture this: Your class starts in 10 minutes and you haven't had coffee. You come out of the Nest Building, your favorite hangout spot on UBC's Vancouver campus. Take a look around and what do you see? Most days – a sea of people. Your goal right now is to get from one side of UBC's crowded "Main Mall" to the other in time for your next class. Easier said than done. For one thing, there's the constant construction. It's like a permanent obstacle course out there! Then there are all those pesky squirrels. And of course, there are thousands of other students trying to get from one building to the next and they haven't had coffee either. The timer starts, and you set off. Good luck doing the Main Mall Hustle. Remember: don't be late for class!
Who Is This App For
Prospective students of UBC
First-year students of UBC who are still confused about the locations of the buildings along Main Mall
Anyone who wants to experience UBC Vancouver Campus without physically being there.
The Team
Staff Developer
Dante Cerron, Project Lead (May 2020 – 2020)
Past Student Team Members
Zahra Asadi, Developer (May 2020 – 2020)
Juyeong Stella Oh, Team Lead (Oct 2017 to Aug 2018), Advisor (Sept 2018 – November 2018)
Paolina Buck, 3D Modeller (Oct 2017 to April 2019)
Michael Goh, Developer (Oct 2017 to April 2019)
Emma Ng, 3D Modeller and Designer (May 2018 to August 2018)
Colton Quan, Developer (Oct 2017 to April 2018)
Will Tsai, Developer (Oct 2017 to April 2018)
William Beltran, Developer (May 2018 to November 2018)
Morgan Mo, Developer (May 2019 to August 2019)
Zijia Gary Zhang, Developer (May 2019 to August 2019)
Yuntao Wu, Developer (May 2019 to August 2019)
Past 3D Modellers
Travis Anderson
Vivian Hui
Past 3D Modellers
Special thanks to Kirk Karasin, our late colleague and friend, who championed Main Mall Hustle from the very beginning. Thank you, Kirk.