Exploring an Ancient City
Exploring how ancient people experienced their built environments and how to use digital technologies to reconstruct an ancient city, allowing students and researchers to
engage with archaeological data in new ways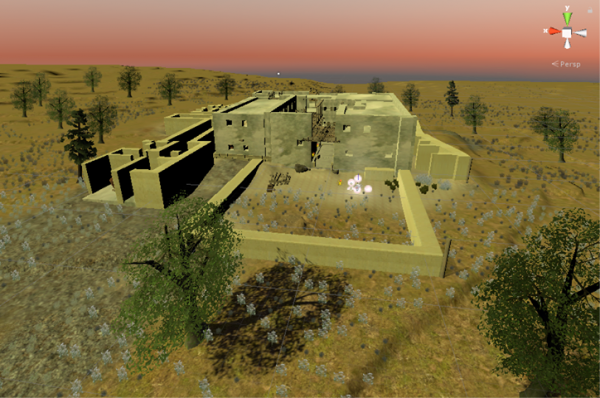 Background
A UBC team of archaeologists has been investigating the ancient site of Kalavasos-Ayios Dhimitrios–one of the earliest cities on the Mediterranean island of Cyprus–in order to understand the relationship between social interaction, social change and urban landscapes during the Late Bronze Age. The Emerging Media Lab and the AMS Game Development Association are collaborating with this team and the Centre for Digital Media to give people with various levels of expertise the opportunity to experience and learn more about this ancient city in a VR environment.  This work is supported in part by a SSHRC Partnership Grant awarded to the Computational Research on the Ancient Near East (CRANE) Project.
Objective
This project is particularly interested in exploring how ancient people experienced their built environments and how we can use digital technologies to reconstruct an ancient city, allowing students and researchers to engage with archaeological data in new ways. The first phase of the project (2017-18) was aimed at recreating the city's historical landscape as accurately as possible based on the evidence uncovered by the archaeologists. The EML team worked to create an educational game that encourages participants to learn more about this ancient city through a virtual reality experience. A learning objective for this game is to help the user understand how Bronze Age society worked by exploring how socioeconomic status is reflected in a city's architecture. The connection between social status and the built environment can be seen throughout history, including today's modern day cities.  For example, buildings in upper class areas tend to be monumental, with more expensive materials, larger living spaces, and different types of artifacts compared to structures in lower class neighbourhoods. The current phase of the project (2019-20) is focusing on reconstructing the monumental core of the city in order to push the boundaries of VR as both a platform for archaeological research, data integration and as an educational resource.
Why Virtual Reality?
Kalavasos has been only partially explored by archaeologists using excavation and geophysics, and that work gives us a glimpse of the ancient city in a ruined state.  VR is uniquely well-suited to allowing us to not only reconstruct what the site looked like in the Bronze Age, but also to understand how ancient people experienced this built environment. This virtual reality experience will give researchers and students a new perspective of how people designed and built ancient cities—lessons that can inform us about the nature and effects of the cities we live in today.
The Team
Students
Theresa Kikuchi, Team lead (Oct 2017 – Apr 2018)
Weijun Chu, 3D modeller (Oct 2017 – Apr 2018)
Alexis Gervacio, Developer (Oct 2017 – Apr 2018)
Vivian Shao, Developer (Feb 2018 – Apr 2018)
Margaret Yao, Developer (Oct 2017 – Apr 2018)
Shavonne Yu, UI/UX Designer (Oct 2017 – Apr 2018)
Industry Consultants
Peter Kao – Metanuat
Andrew Lee – Metanuat
CDM Team
Jeanette Kopak – Faculty Advisor
Marina Bertoldi – Project Manager (Scrum Master and Product Owner.)
John Bondoc – Art style guide and 3D modelling. (support for UX)
Nour Al-Amoudi – 2D artist, 3D modelling and research and compile. (support for developers)
Celine Li – User Research, information technology and UI design.
Jerry Chen – Developer and Modeller
Andrew Yang – Developer and UX
CDM Team