Developing Emerging Technologies: EML @ Tapestry
An immersive node based presentation of EML's current and past projects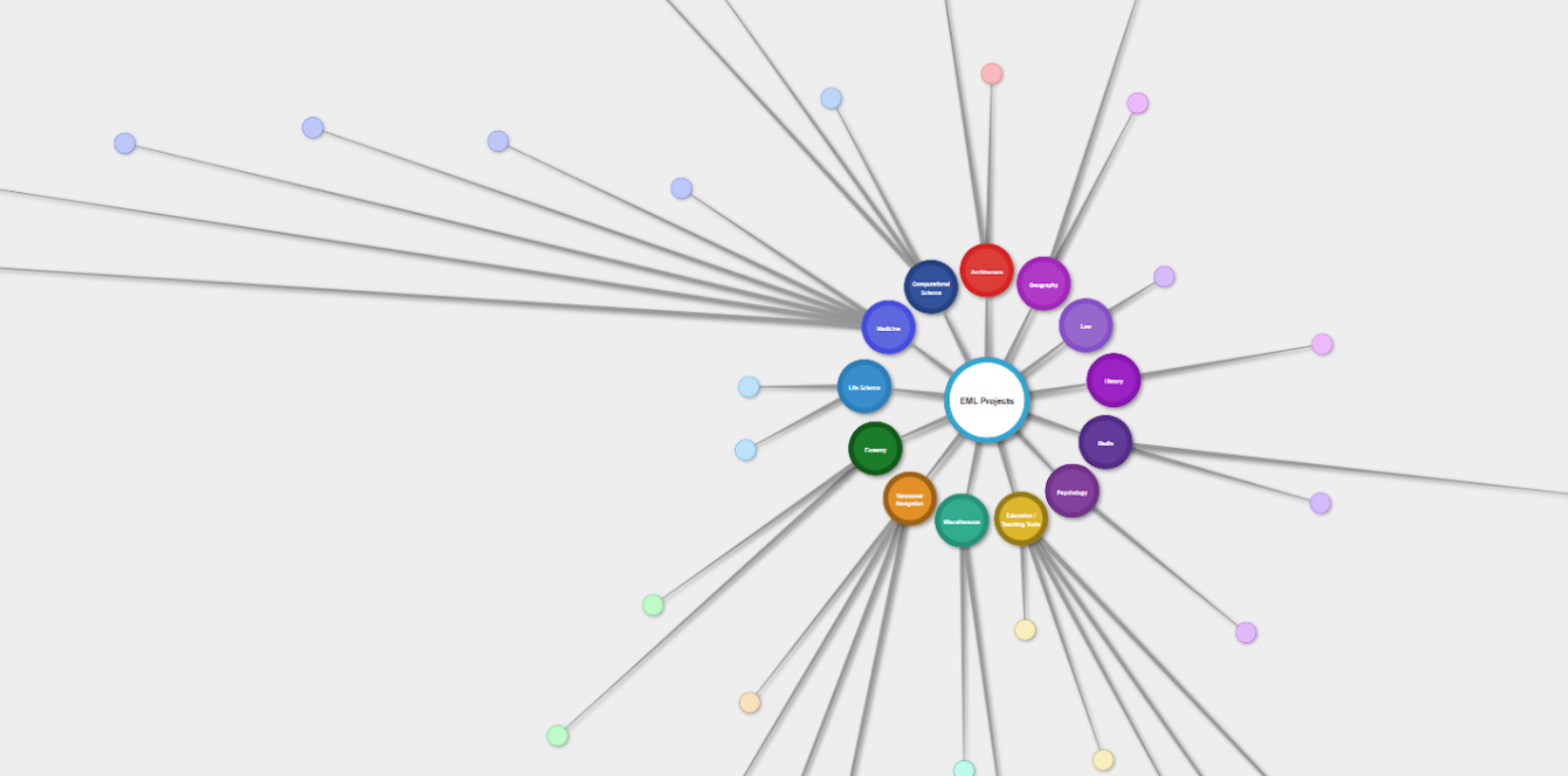 Project Description
The team co-created an immersive node based presentation of The University of British Columbia's Emerging Media Lab's (EML) current and past projects. They did so using the Tapestry Tool developed by EML Faculty in Residence Dr. Steven Barnes. Tapestry is a multimodal, non-linear, interactive learning experience where students, faculty, and staff can create nodes that connect to form a tapestry, allowing users to integrate concepts in one space, while welcoming the UBC community to explore and engage with projects involving emerging technologies and media to support learning and research. The Tapestry showcases EML projects on a suitable, interactive site to promote and create awareness of the lab at UBC. The EML's resources help students, faculty, and staff develop learning tools for all academic
disciplines in collaboration with industry professionals, with the Tapestry sorted by their related subjects (Arts, Sciences, etc.), and information to get involved.
Project Overview
For this Tapestry on UBC's Emerging Media Lab (EML), we showcased the lab's projects to address the specific audiences of UBC students at large, EML members, and UBC instructors. In our introduction window of our Tapestry, we created specific instructions for each of these audiences and how best they could use the Tapestry, and provided audience-specific resources in our "Get Involved" node. We organized the Tapestry by faculty and had different content types for each project.
Gallery
The Team
Principal Investigator(s)
Dr. Patrick Pennefather, Professor, UBC Theatre and Film
Students
Ally Carrey, Project Coordinator and Communications Lead (September 2022 – December 2022)
Bita Jokar, Project Coordinator and Lead Evaluation Researcher (September 2022 – December 2022)
Cristen Lin, UI/UX Designer (September 2022 – December 2022)
Jessica Lescano, UI/UX Designer (September 2022 – December 2022)
Lakshanyaa Ganesh, Content Strategist and Writer (September 2022 – December 2022)
Seneca Forster, Content Strategist and Writer (September 2022 – December 2022)
Cristen Lin, UI/UX Designer (September 2022 – December 2022)
Staff
Steven Barnes, Client Partner: Associate Professor of Teaching and Director, Undergraduate Program in Neuroscience (September 2022 – December 2022)
Daniel Lindenberger, Emerging Media Mentor for EML (September 2022 – December 2022)
Catherine Winters, Lab Supervisor of EML (September 2022 – December 2022)