Digital Dream Play
Adapted from August Strindberg's A Dream Play by the students of THTR 472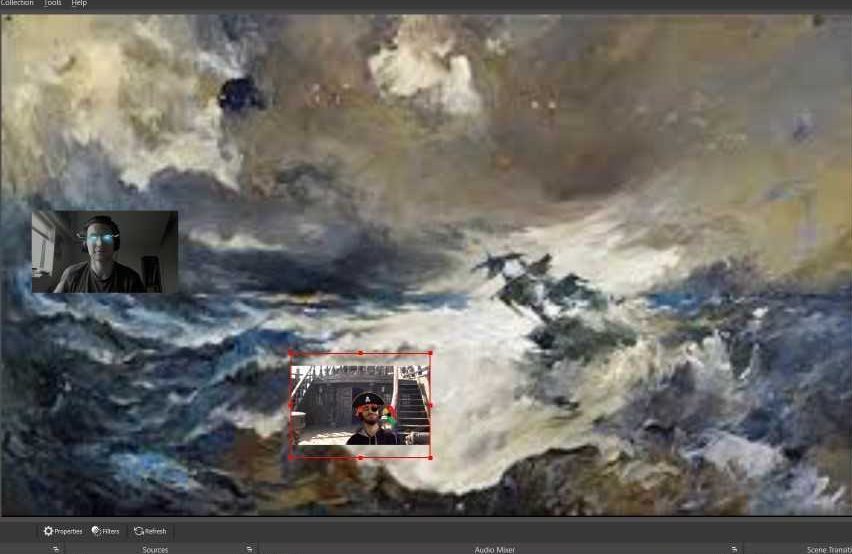 What is Digital Dream Play
Digital Dream Play is adapted from August Strindberg's A Dream Play by the students of THTR 472. A Dream Play was created by Swedish playwright, poet and novelist August Strindberg in 1901 and performed in Stockholm in 1907. The New World Encyclopedia states that his work was a precursor to Expressionism and Surrealism. What we know for sure is that many versions of A Dream Play have been mounted since that time across different types of media. One way in which stagecraft and eventually digital technologies have played a role is implicated in a description of the play were "characters split, double, multiply, evaporate, condense, dissolve and merge". (August Strindberg-An introductory reminder to A Dream Play, 1901).
The Role of Technology in This Version of a Dream Play
Early conversations with Digital Dream Play director Tom Scholte examined the potential of current technologies to support the constrained staging permitted during a pandemic. With distancing between actors being a key concern, we asked "What if we could develop an application that could co-locate actors from different positions on the stage to one shared virtual environment?". Preliminary research pointed the way towards potential solutions. Off-the-shelf customization of open-source software like OBS (Open Broadcast System) gave us hope that under the right conditions this might actually be possible within a short production period.
A team of dedicated students from the first version of a new course (Collaborative Prototyping) https://eml.ubc.ca/course-support-draft/
taught by Dr. Patrick Pennefather (also a practitioner and producer of mixed reality experiences), we're eager to take on the challenge. Through a combination of their hard work, persistent experimentation and the support of faculty, staff and students on the live production side of the Theatre and Film Department @ UBC, Digital Dream Play will stream to live the first week of April. A monumental mix of the virtual and the live, walls of a green screen on the Frederic Wood Stage will act as a backdrop for live actors who will engage with one another at a distance through various environments. These will come to life for the viewing audience through a combination of virtual scenic designs by Jane Li, lighting by Sandy Park and sound at a distance by Shiori Hatamoto. This production is an innovative answer to the question "What might a theatre show look like during a pandemic and how might this influence productions in the future?"
Process
Different than a more standard theatre production process, the software development team has already begun experimentation on the Frederic Wood Stage testing the limits of computing power, webcams and mic placement. They've integrated virtual sets with live lighting and the stage management team is front and center in calling and operation, in part because of the limited number of students who are available at this time to be in the theatre space in-person. Strategically, early fails and rapid learning has been evolving as everyone embraces a rapid prototyping ethic well before a typical technical rehearsal period in the theatre.
This project is also a collaboration with Patrick Pennefather's Rapid Prototyping course, and the student's help on experimenting with OBS Studio and application of the skills learned in the class to put together a user test and prototype scenes have been invaluable in moving the project forward.
The Team
Faculty
Dream Dev Team
Sepand Dyanatkar
Elyse Wall
Zac Labrie
Nikko Dumrique
Ralph Evan
Rosh Kashyap
EML Supervisory Team
Dante Cerron
Daniel Lindenberger
EML Student Support
Jane Diokpo | Illustrator
Course Supervision
Dr. Patrick Pennefather
Patrick deMoss
Gallery