3D Metabolism
A novel way to visualize the information contained in a metabolic network to make it easier to consume and understand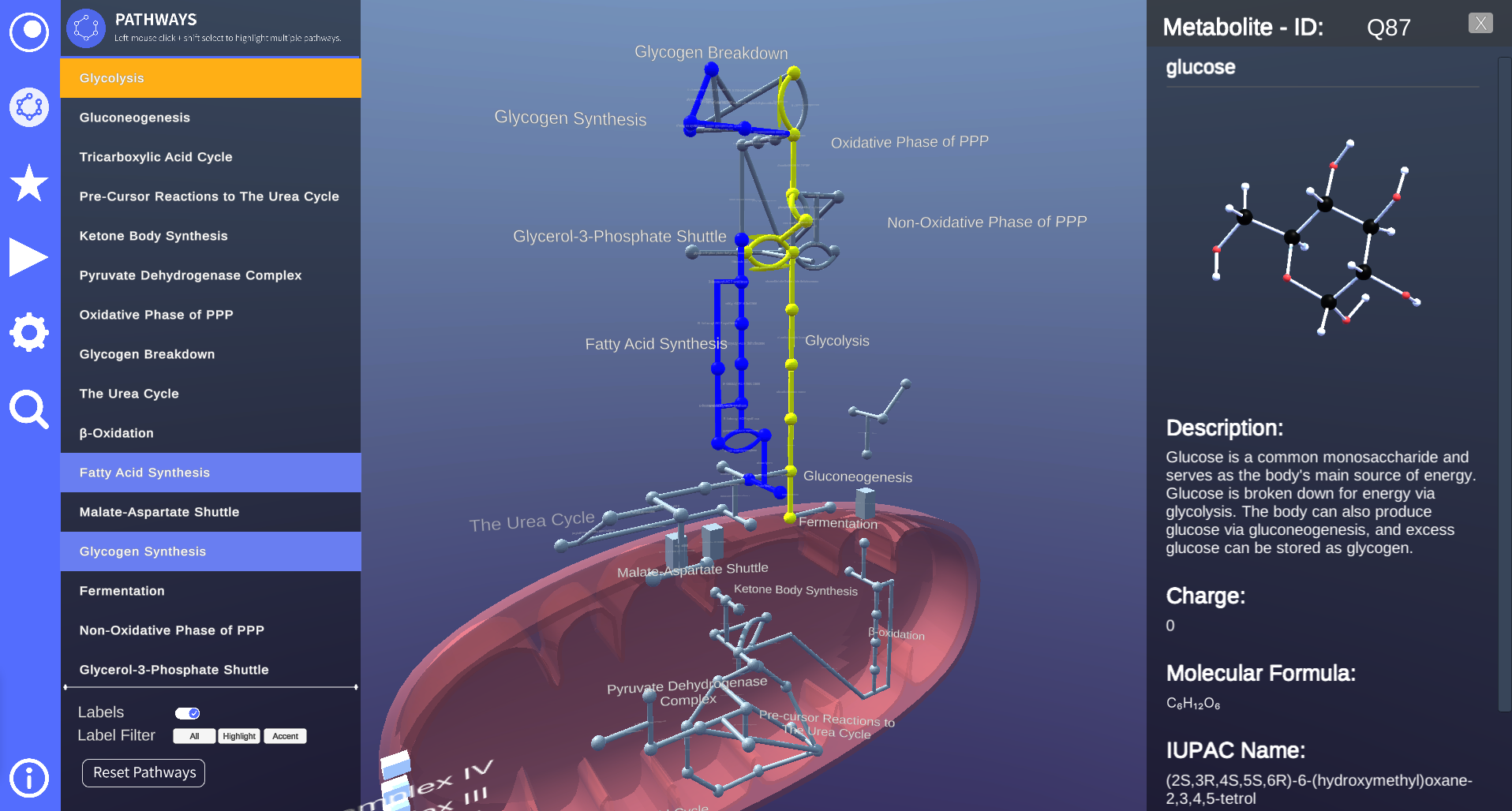 Background
The metabolic network is a famously difficult to learn model in the wider subject of metabolism, where the reactions that work together to produce certain metabolites are described as a pathway of lines and dots. The dots represent intermediate metabolites and the lines represent the reactions the metabolites undergo to produce new ones. The pathways can get extremely complex as you try to include more metabolic functions!
Objective
The objective of this project is to provide a novel way to visualize the information contained in a metabolic network to make it easier to consume and understand. By incorporating interaction into the network and making the visualization in 3 dimensions, we are creating a tool that will make it easier to view information that would, in the past, need several different models to display.
Features
This project will focus on desktop and mobile platforms as the primary delivery to maximize ease of use and accessibility. A VR version using Google Cardboard will allow for a more immersive experience.
The Team
Principal Investigator(s)
PI: Dr. Lindsay Rogers, Biochemistry and Molecular Biology Lecturer
Consultant: Dr. Patrick Pennefather, Professor, UBC Theatre and Film
Faculty Advisors
Dr. Scott Covey, Biochemistry and Molecular Biology Senior Instructor
Current Student Team
Reva Nambiar, Project Lead, UX/UI Designer (September 2022 – August 2023)
Mohsen Movahedi, Developer (September 2022 – August 2023)
Kenneth Ofori-Amanfo, Subject Matter (May 2023 – August 2023)
Farida Kayed, Volunteer (May 2023 – August 2023)
Staff
Frederik Svendsen, Staff Developer (April 2023 – August 2023)
Daniel Lindenberger, Emerging Media Mentor (March 2021 – August 2023)
Robert Shum, Staff Developer (January 2023 – April 2023)
Catherine Winters, Staff Developer (January 2023 – April 2023)
Dante Cerron, Staff Developer (May 2020 – March 2022)
Past Team Members
Jiho Kim, UX/UI Designer (January 2023 – April 2023)
Rayyan Saiyed, Developer/Subject Matter (September 2022 – April 2023)
Ella Gray, Subject Matter (September 2021 – April 2023)
Daisy Ye, Web Designer (May 2022 – April 2023)
Kim Nipp, 3D Artist, UI Design (2021 – 2022)
Michael O'Keefe, Developer (May 2022 – December 2022)
Tom Mo, Developer (September 2022 – December 2022)
Jazica Chan, Developer (May 2020 – August 2020)
Nikko Angelo Dumrique, Developer (May 2020 – August 2020)
Hai Lin Zhang, Developer
Jenn Gechen, UX/UI Design
Jeffrey Chow, Volunteer
Joshua Yoon, Volunteer
Mahak Arora, Volunteer